About Phoenix
Welcome to Fine Art, Paintings, Photographs, Prints and Gallery for Phoenix The Moody Artist!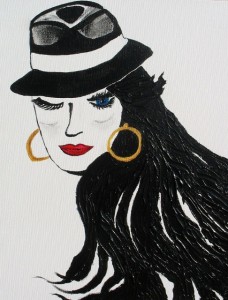 Phoenix is not moody or brooding, rather The Moody Artist is about creating 'moods'. The use of bright colors with a sense of wind blowing them across the canvas is the 'mood' created.  I love creating a moving experience through painting.  Much of my work has  3-D built-out forms or loaded with texture.
Listening to the music of Jazz, Classical and Folk is the passion energy that creates the images, colors and textures that dance their way onto my canvas.
Growing up in Seattle, my first inspiration came from my Aunt's art work; she did stunning larger-than-life images of florals in pastels with such grace and style.  In my young adult life, Picasso's diverse style, subjects and mediums fed my interest in artist expression.  I believe this has greatly influenced my eclectic style on canvas.
The first time I took an art class in the early seventies using oils I fell in love! Acrylics have added a whole other technique. My signature style is to use texture, vibrant colors, a sense of motion and some 3-D effects, or sometimes adding metallic sheen with some interesting effects.
When I was a young budding artist in the seventies my earlier work as was sold privately, and live in homes primarily throughout the Northwest. The last several years my work has primarily been sold in the Southwest through Galleries and Juried Shows, also to Private Collections. I love to create in diverse styles: Concept Art, Freestyle-Abstract, Contemporary, Surreal and Ethereal sometimes combined with Realism.
Life is a moving experience. I have been all over the West; I moved to Santa Cruz in 2011 to be part of a fabulous creative community. I've taken classes in many other locations; primarily in the use of oils and acrylics, and  live model drawing classes.  I've attended a few sessions here in Santa Cruz.  Mostly I am self-taught through experience and by a variety of study.  I've learned a lot through my friendship with other gifted artists, gallery installs, reading, exploring and experimenting.
I have taken commissions for Private Collections, including designs for Feng Shui paintings to improve space and energy for a better harmonious mood bringing positive effects.  Enrich your space with some beauty, color and liveliness.  Start a Collection for your home or business today from The Moody Artist.
To purchase an original painting or commission; or to be on my mailing list you can contact me through the: Contact Phoenix, The Moody Artist at the top of the Site Menu List. Plus an additional Site with a shopping cart: http://fineartamerica.com/profiles/phoenix-themoodyartist.html?tab=artworkgalleries Take a peak and go shopping at your leisure for paintings, photographs, prints, greeting cards, phone cases (customize) and more.
Greeting Cards, Prints and Stickers/Labels are now available of previous sold Paintings and current work. Please contact me.
The Stickers/Labels are great for putting a 'spark' of color and glamour on gift tags, bottles of wine, vinegar/oils, recipe books, personalizing any item! Be creative with these unique designs.
If you know of a Venue, or you are a Venue interested in exhibiting my Art, please feel free to contact me.
How to contact me for any questions, purchase or more information:
Contact Page on this Site.
Shopping Cart Site (for many purchases, not all): http://fineartamerica.com/profiles/phoenix-themoodyartist.html?tab=artworkgalleries