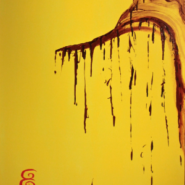 Art Exhibit: Phoenix The Moody Artist & Caffe Pergolesi
Phoenix The Moody Artist pairs up with Caffe Pergolesi for an August Art Exhibit!
See a full array of paintings and style expressing abstract, conceptual, metallic and 3-D with lots of bright colors and movement.
My Reception will be Friday, August 2, 2013 — 6 pm – 8 pm, during the First Friday Art Tour in downtown Santa Cruz at Caffe Pergolesi.
My Art will be on exhibit all of August!
All of these paintings are inspired by music, flavor, imagination and some whimsy. I love painting mostly with Jazz, but sometimes other music slips in to change 'the mood'. Food and flavor are very exciting to me as images 'pop' and 'explode' their way onto my canvas. Sometimes images 'just happen' and demand to be expressed! You will see all of this eclectic style in the August Art Exhibit.
Caffe Pergolesi is at 418 Cedar Street, Santa Cruz, CA 95060
It has many rooms, each a different color. Enter by the Gold room, go left to the Blue, and go right to the Green to see Phoenix The Moody Artist paintings.