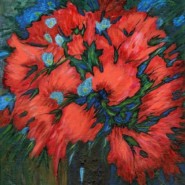 Eat, Sip and Art from Phoenix, The Moody Artist at The Kind Grind
Enjoy eating and sipping your favorites while enjoying a Phoenix, The Moody Artist Exhibit of original paintings and metal prints at The Kind Grind!
Step into a visually colorful scene at the venue, The Kind Grind in Santa Cruz, CA. Bold images surround you while eating and sipping at the beach. The month of August I'm exhibiting paintings of abstract – realism with lots of texture, 3-D and metallics. Metal prints of previously sold paintings by Phoenix are also available for show (and purchase).
You can have some culture, food, drinks and fun in the sand and surf all at once! Take time out and enjoy checking-out paintings like 'High Surf' expressed in acrylics.  'Jazzy Flowers' is a print on metal with bright red-flowers with some blue and whites looking slightly wind-blown. These plus many other paintings and prints are multi-colored and guaranteed to cheer up any mood in a room.
Art can set the mood, bring joy and harmony to a space. Feng Shui is the art of space and balance to bring  you harmonious energy, healing and prosperity. Many of my works are naturally fitting for better Feng Shui in your home or office. Add some color to a wall and be entertained by the image. When you have creativity surrounding you, you feel more creative yourself! Go bold, go beautiful, go wild!
The Kind Grind at 2222 East Cliff Dr., Santa Cruz (at Yacht Harbor)
Phone: 831.476.9136, www.kindgrind.com