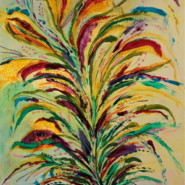 New Art Show at Sweet Pea's January 2013
Fourteen original paintings by Phoenix, The Moody Artist are now on view at Sweet Pea's Cafe in Capitola, for the month of January 2013.
If you missed the 'Paint by Flavors' Show in October 2012 now is your second chance to bring a friend! Have you ever tasted something so bold or sensual it created an image to go with the flavor? That's what happened to me from tasting sets of oil and vinegar.
Each painting is unique to a set of flavors that created an image so bold, beautiful or sensual it just had to be painted on canvas. Most of them are a mix of abstract with some realism collaborating in bright lively colors. I have a wonderful experience when I taste things, it brings about a visually entertaining moment as well.
My Art fills the walls for a visually tasty affair, I encourage you to bring friends for wonderful crepes, quiches and other wonderful food and drinks to Sweet Pea's in Capitola at 2121 41st Ave. Suite 107, Capitola, Ca 95010. When you are there consider the flavors you are taking in and see if some image pops into your head, share your experience with me. Please read the tags for each painting, it states the flavor associated with it. The oils and vinegars that created such bold images for me came from The True Olive Connection in downtown Santa Cruz.
Additional Prints (metal and paper), Gift Tags, Greeting Cards and Labels (for most anything) are also available from many original paintings. Contact me for more information on these items.
Of course I'd be happy to paint a commissioned piece just for your home or office that would suit your environment and taste. Many of my paintings are also created for the best Feng Shui of space and energy too. Please contact for more information on personalizing your environment, it will make a colorful difference in mood.
Happy Tasting with smiles,
Phoenix, The Moody Artist