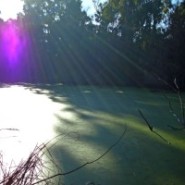 Phoenix, The Moody Artist has Metal Prints at the Davenport Gallery
New things presented on Metal Prints! Phoenix, The Moody Artist has
Nature Photography exhibited at the Davenport Gallery.
My love of photography began in my early twenties, and as I increased my work in painting I did less photography. I have renewed interest in viewing from a camera's point of interest since moving to Santa Cruz a year ago.
The Central Coast of California has some of the most gorgeous coastline anywhere for a photographer's delight.  The Davenport Gallery now has three of my photographs printed on metal, a stunning new medium for prints.
My featured photo, entitled 'Purple Angel of the Lagoon' was shot in a State Park by Natural Bridges in Santa Cruz. This is where the Monarch Butterflies migrate every year to cover the entire environment with their beauty and grace. The lagoon had some interesting effects with the sun rays shining between the trees onto the green-laden water. What a surprise when the photo uncovered (not seen to the naked eye) a purple light image resembling an angel!
One photograph taken off the back veranda of the Nepenthe restaurant along Big Sur. Some foliage has formed a heart shape with the ocean in the background. The title for this image is 'Heart of Nepenthe'. This is one of my most favorite places to have a delicious meal while sitting outside overlooking the Pacific Ocean and hugged by trees with birds snatching up fries close and personal.
Getting the timing and clicking on cue when the wave crashed against the guardian rocks entrance of the beach was crucial for another photo. A State Park along Big Sur provided the perfect setting for this image, 'Surging Wave of Big Sur'.
You can't really get the true effect of these images printed on metal till you've seen them hung on a wall. This is my invitation to you to go see this exciting new medium with my images proudly exhibited at the Davenport Gallery for the month of August in 2012. The Davenport Gallery  located at 450 Highway One, Davenport, CA 95017, 831 426 1199 http://davenportgallery.org/
Once I saw the unusually dynamic effect of metal prints, I decided to also print some previously sold paintings of my art on metal. Look for my Post on The Kind Grind for more about my paintings and metal prints on show in August.